"The ball is round so that the game can change direction."

Sepp Herberger
Planetary stations are celestial phenomena that have an enormous impact in horoscopes. Lacking the convenience of having them highlighted with an S until my software upgraded, they were often overlooked in my analyses of charts.  Their importance in delineation speaks volumes, and the influence of being born on one lasts a lifetime.  This is why stations are one of my favorite techniques; their effect is permanent. A station stamps the entire chart.     
As a magician uses smoke and mirrors to create a deception, the planetary motion employs the same suspension of belief with its own form of optical illusion, making a seemingly simple change of direction create a whole new dimension of interpretation.  
The Reverse Rotation, or the Wagon Wheel Effect
A spoked wheel appears to rotate more slowly than the true rotation, it can appear stationary, or it can appear to rotate in the opposite direction.  This last form of the effect is sometimes called the reverse rotation effect.  The direction of movement appears to change.  Retrograde is the Latin word for "backward step."  Retrograde motion is an optical illusion caused by the visual system, which is part of the central nervous system that is required for visual perception.  This optical illusion is characterized by a visual precept that appears to differ from reality.  In a horoscope, this visual precept becomes a frozen snapshot image, a freeze frame of a slowed-down motion that plays a central role in the person's life, branding them with that planet's influence.  The qualities of the planet become intensified, characterizing the person's life for better or worse. Anyone born within three days of this planetary phenomenon has the stationary planet functioning on overdrive in their charts and thus in their lives.  
Stations are one of my favorite portents in a horoscope. The effects of aspects, both natal and transiting, can be minimized through lifestyle, and eclipses come and go. But if one is born on a station, the areas that come under that planet's rulership planet are magnified; there is no way to escape their magnetic impact.
The following charts depict individuals who were born within 48 hours of a planetary station. All data was obtained from Astrodatabank. While no time of birth was recorded for Benjamin Franklin, astrologer Frances McEvoy rectified the time from the Franklins' father's diary and the baptismal records from the Old North Church. 
Born on a Mercury Station
Writers, storytellers, the printed word
Transportation
Writer, storytellers, the printed word
Transportation
Information
Siblings or cousins play a pivotal role
Exceptionally persuasive conversationalists
Dialects and language are focal points
Limbs, flexibility, movement
Take an alternate route to education. 
Example of Mercury SR: Benjamin Franklin 
Benjamin Franklin, American inventor, printer, Postmaster, librarian, humorist, columnist, negotiator, and scientist, was a founding father in American history.
After two years of school, Franklin was apprenticed as a teenager to learn typesetting from his brother James, printer of the New England Courant. Despite his talent as a wordsmith, Franklin wasn't permitted to make any contributions to the newspaper his brother published, only set the type. In 1722 James was jailed for 3 months for publishing a criticism of the governor. Franklin assumed all tasks in his brother's shop with superior results. During James' absence Franklin anonymously penned a column in the Courant entitled "Silence Dogood" that resulted in many letters of compliment and inquiry. When James returned and discovered that Franklin wrote this column, a fistfight ensued, and Franklin fled to the stage coach station. According to the law in colonial America, leaving an apprenticeship without permission made Franklin a fugitive, impelling him to take the coach to its furthest destination; the city of Philadelphia. It was here that Franklin's prodigious abilities manifested in establishing another newspaper, a post office, a fire department, a library, a hospital, and a university. His Poor Richard's Almanac sold over 10,000 copies per year, and the quotes from it, namely "Time is money," and "Early to bed and early to rise, makes a man healthy, wealthy, and wise," are ingrained in the English lexicon. Franklin's insatiably curiosity resulted in the invention of bi-focals, the Franklin Stove, musical instruments, the lightning rod, and electricity. His diplomacy earned him the position of Ambassador to France, where he formed a military alliance to help win the American Revolution, and in 1783 helped negotiate the Treaty of Paris, ensuring financial aid from the French for the colonies. After returning to Philadelphia, he helped draft and then signed the Declaration of Independence.
Franklin was particularly fond of his clever youngest sister Jane, teaching her to read and write at a time when girls in colonial Boston weren't sent to school, and they corresponded through letters for 63 years.  When Jane's husband died, leaving her penniless and in debt, Franklin supported her for the rest of her life and bought her a house near his own in Philadelphia, where the two were close companions. 
Born on a Venus station
Music and the arts prevail over the life
Diplomacy plays a central role
Legal issues with partnerships
Overindulgence
Throat and neck problems
Example of Venus SD – Jerry Lee Lewis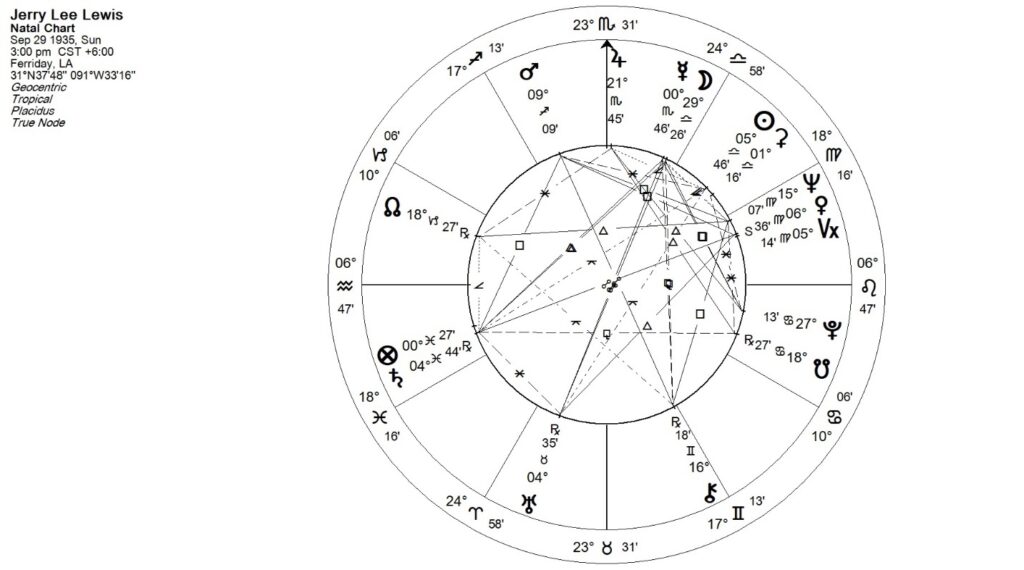 Jerry Lee Lewis was a legendary performer and was the first musician inducted into the Rock and Roll Hall of Fame. His rowdy antics on stage earned him a loyal following and in 1957 he became an international sensation with the hit songs "Great Balls of Fire" and "A Whole Lotta Shakin' Goin' On."  Born into an impoverished farming family, Lewis spent much of his childhood sneaking into the juke joint across the railroad tracks, where he emulated the itinerant black musicians playing rhythm and blues. By age nine his innate talent to play their music was so prodigious that his father mortgaged the farm to buy Jerry Lee his own piano, and by 14 the self-taught Jerry was playing in public assemblies, revivals, tent meetings, and on the local radio. Lewis was offered a record deal after his first audition in Nashville and his career was off and running, filling the gap left by Elvis Presley, whose enlistment in the army kept him out of the spotlight. Lewis was a frenzied showman who played the piano with his fists, elbows and feet, thrilling audiences across the globe. 
In May 1958, Lewis' much-anticipated concert tour in London was cancelled upon his arrival due to an interview with the young girl accompanying the 22-year-old musician, who told reporters she was his wife. Thirteen-year-old Myra Gale Brown (Lewis gave her age as 15), was legally his wife in Lewis' second bigamous marriage. When the press received this news, Lewis ended up playing in pubs and clubs instead of sold-out stadiums at $10,000 per night, returning to America a few days later to find himself blacklisted. Radios stopped playing his music and his friends abandoned him, yet the couple remained married for 12 years and had two children. Regaining his career foothold in country music after struggling for a decade to resume performing, Lewis soon evolved into a rockabilly superstar. After a total of 7 marriages, problems with drugs, alcohol, and taxes finally took their toll, and Lewis retired from performing in 2019.
Born on a Mars Station
Aggression manifests
Athletics and sports predominate
First responders
Bold and protective: refuse to back down or play a passive role
Head injuries change the course of their lives
Example of Mars SR – Knute Rockne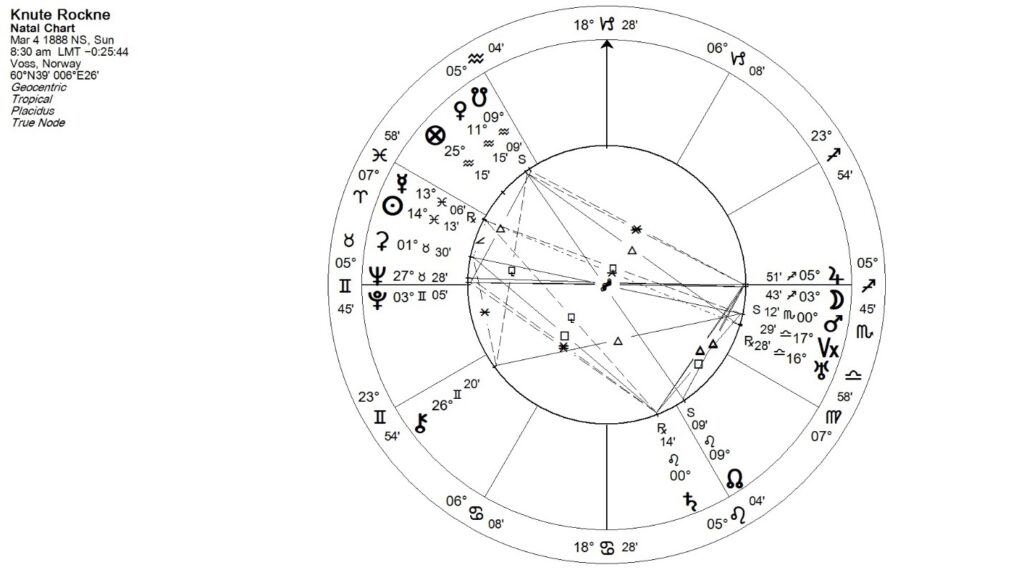 Knute Rockne is regarded as one of the greatest coaches in the history of college football. He was born Knut Larsen Rokne and emigrated to Chicago with his parents when he was five years old.  In his youth he excelled at football and ran track.  In the summer of 1913, he worked as a lifeguard. 
Graduating Notre Dame in 1914 with a degree in pharmacy, he was then offered the job of football coach. His performance and record were unprecedented. In a span of 13 years Rockne led Notre Dame to 105 victories, 12 losses, five ties and three consensus national championships, which included five undefeated and untied seasons. Rockne posted the highest all-time winning percentage (.881) for a major college football coach. Rockne's charisma and the stylish play of his teams riveted public imagination. He perfected such maneuvers as the Notre Dame Shift, the forward pass, and helped change the game from one of brute strength to one of speed and deception, making him the intercollegiate sport's first true celebrity coach.
On March 31, 1931, Rockne died a violent death in a plane crash. Shortly after an hour after take-off from Kansas City, one of the planes' wings broke in flight. The plane crashed into a wheat field near Bazaar, Kansas, killing Rockne and seven others. This tragedy and the resulting public outcry led to sweeping changes to aircraft design, manufacturing, inspection, and crash investigation, igniting safety regulations that transformed air travel worldwide from one of the most dangerous forms of transportation to one of the safest.
Rockne's unexpected death stunned the nation. Over 100,000 people lined the route of his funeral procession, and the funeral was broadcast live on network radio across the United States, Europe, and parts South America and Asia.
Born on a Jupiter Station
Philosophy and religion prevail over the lives
Cross-cultural issues and higher education are focal points
An extraordinary stroke of luck changes their trajectory
Problems with legs and hips
See to it that justice and mercy are implemented
Righteous; they'll have "their day in court."
Example of Jupiter SD – Ralph Waldo Emerson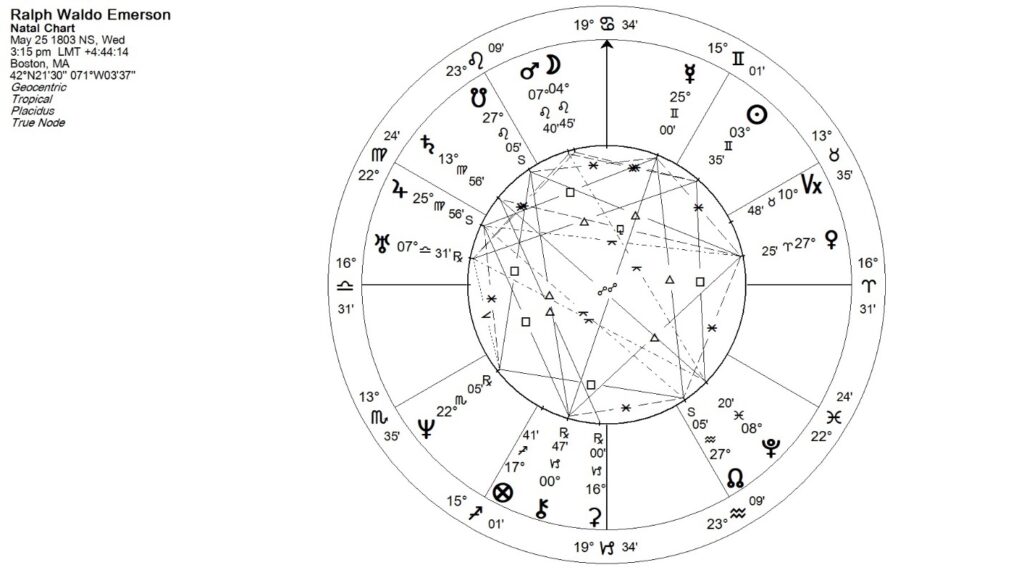 Emerson was an American essayist, lecturer, and philosopher who was a prominent figure in the transcendentalist movement of the mid-19th century. He was a champion of self-reliance, a prophetic critic of the Industrial Revolution and its stultifying impact on society, and published dozens of essays. A renowned public speaker, he gave more than 1,500 public lectures across the United States.  
A core belief in Transcendentalism is in the inherent goodness of people, that nature has its own intelligence, and that people are at their best when they are self-reliant, maintain good conscience, and see the divine experience inherent in everyday experiences, rather than believing in a distant heaven and suffering on earth while preparing for glory in an afterlife.
Emerson began attending Harvard College at age 14. After graduating 3 years later, he worked as a schoolteacher, then entered Harvard Divinity School. In 1829 he was ordained a minister and accepted the position of junior pastor at Boston's Second Church. Two years later his world fell apart, after losing his adored wife to tuberculosis. He wrote in his journal: "I have sometimes thought that, in order to be a good minister, it was necessary to leave the ministry. The profession is antiquated. In an altered age, we worship in the dead forms of our forefathers. This mode of commemorating Christ is not suitable to me. That is reason enough why I should abandon it."1
Embracing pantheism, Emerson believed that all things are connected to God and, therefore, all things are divine. His religious views were considered radical during his lifetime. He traveled widely throughout Europe and the United States, lecturing and meeting with prominent writers and philosophers.
Emerson died of pneumonia on April 24, 1882. In May 2006, 168 years after Emerson delivered his "Divinity School Address," Harvard Divinity School announced the establishment of Emerson Unitarian Universalist Association Professorship.
Born on a Saturn Station
Father is either absentee or all-powerful
Maintaining traditions is a focal point
Depression
Restrictions
Fall from Grace
Longevity
Become the Standard or an Icon
Example of Saturn SR – Betty White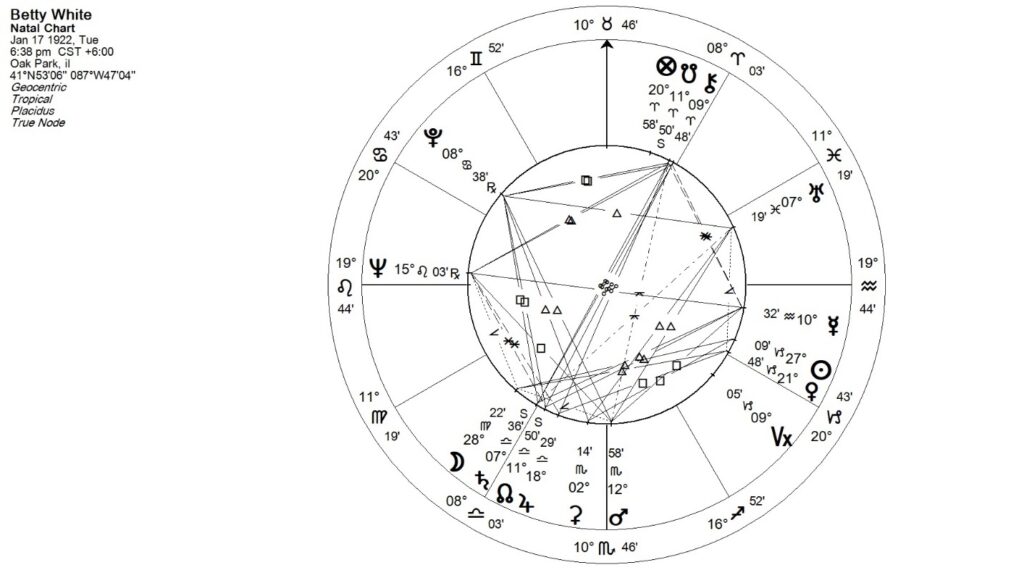 American actress and comedian, White earned a Guinness World Record for "Longest TV career of a female entertainer in 2014. In a career that spanned more than 80 years, she received eight Emmy Awards, three American Comedy Awards, three Screen Actors Guild Awards, and a Grammy Award.
In the mid-1940s White was rejected from the Los Angeles television studios for being "not photogenic." In 1952 her success on the TV show "The Make-Believe Ballroom" consisted of five and a half hours of live ad lib television six days per week, including singing a few songs during each broadcast, earning White her first Emmy nomination. The sitcom "Life with Elizabeth" followed in 1953, with White as the title character and producer, making her the first woman in Television to have control behind and in front of the camera.
In the1960s White was a regular on daytime TV and was dubbed "The First Lady of Game Shows." Her performance in The Mary Tyler Moore show in the 1970s highlighted her comedic skills, winning her two consecutive Emmy awards in 1975 and 1976. In the 1980s stardom was assured in her signature role as Rose Nylund in the hit series "The Golden Girls," marking the highlight of her already stellar career. She won the Emmy after the first season and was nominated every year of the show's run. Television appearances on sitcoms in the 90s and in the 21st century, when in 2010, at 88, continued in the 1990s a steady stream in The Golden Pa2010 at 88 as the oldest guest host on Saturday Night Live.
"I'm having the time of my life and the fact that I'm still working – how lucky can you get? I'm 90 years old and still able to work as much as I do. That's a privilege." 2 On December 31, 2021 White died peacefully in her sleep in her home 18 days before her 100th birthday.
Born on a Uranus station
Disrupt the status quo
They break the mold and create a new one
Rebel against personal or societal restrictions of all kinds
Hold strong visionary goals
Maintain a humanitarian and progressive outlook
Example of Uranus SR: Abraham Lincoln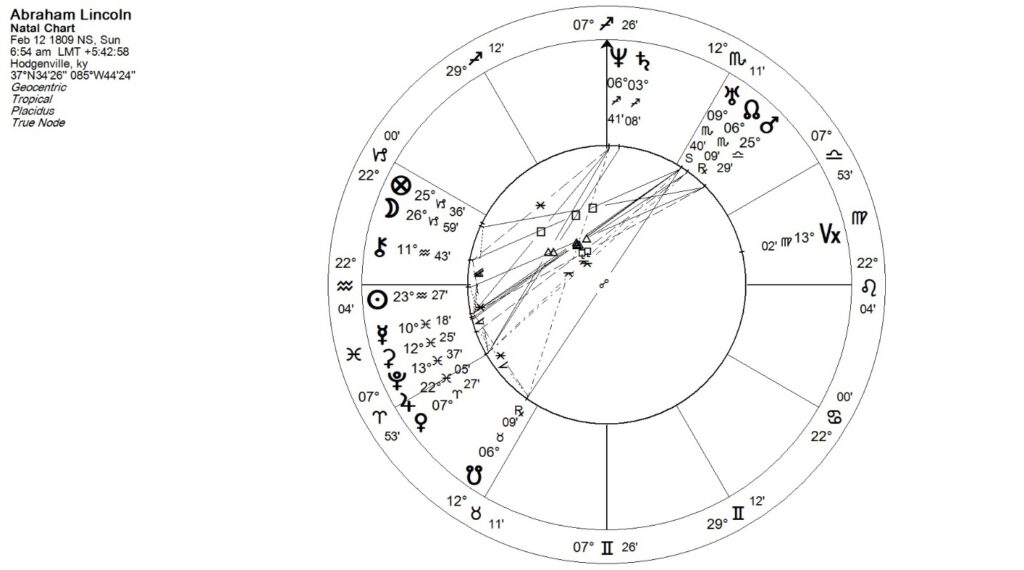 Abraham Lincoln was the iconic 16th American President who abolished slavery and led the nation through the cataclysm of the Civil War.  In both popular and scholarly polls, Lincoln is frequently categorized as the greatest president in American history.
A self-educated prairie lawyer, Lincoln's sweeping changes in American culture had a shocking and permanent impact on the financial and social structure of the United States. The most activist president in American history, Lincoln changed the role of the presidency of Commander in Chief to prevailing over Congress and the courts, and stated that the President was subordinate to neither. Lincoln broke many laws and ignored a series of constitutional provisions. He affirmed his own version of judicial review that placed the President as the final interpreter of the Constitution, and while the government officials are required to support the Constitution it was the President alone who is sworn to preserve, defend, and protect it, placing the well-being and survival of the nation on his shoulders during times of war.
During his speech on September 17, 1859 in Cincinnati, Ohio, he said, "I think Slavery is wrong, morally, and politically. I desire that it should be no further spread in these United States, and I should not object if it should gradually terminate in the whole Union."3
During the Civil War, Lincoln, a born charismatic leader, was determined to preserve the Union, which was quickly unravelling. Lincoln's premise to abolish slavery incurred many enemies throughout the Southern States, where slave labor was the engine that drove their agrarian economy. Five days after the Confederate Army surrendered at Appomattox Courthouse, Lincoln was assassinated at Ford's theater in Washington D.C. on April 14, 1865, plummeting the nation into shock and mourning.
Born on a Neptune Station
Romantic and idealistic
Lean toward activities connected to water, swimming, sailing, etc.
Artistic talent that has an all-consuming, seductive impact
Selflessly dedicate themselves to a charitable cause
Wears a mask of deception
Example of Neptune SD: Mata Hari- Margaretha Geertruida MacLeod (née Zelle)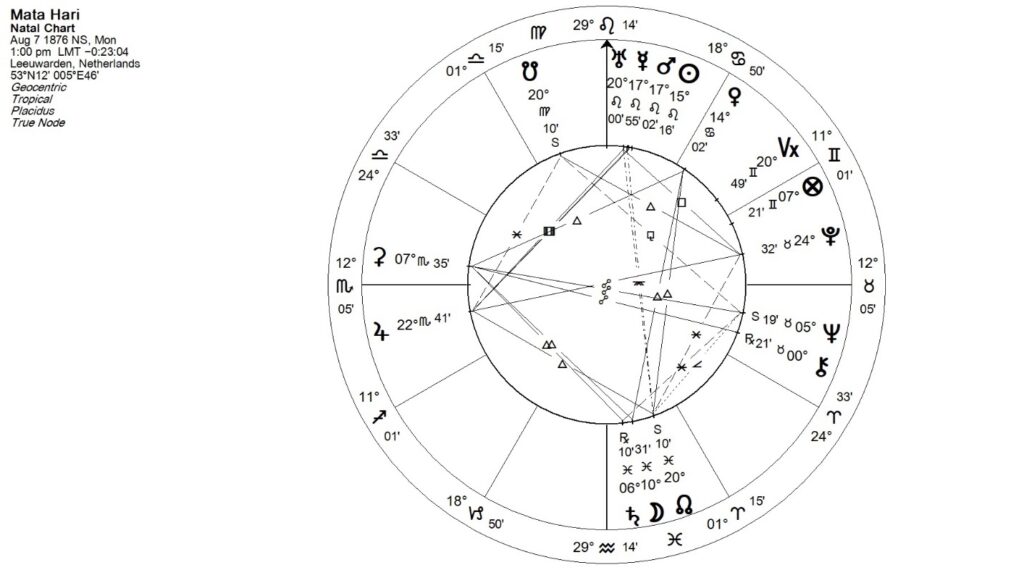 Responding to an ad for a mail order bride, impoverished 18-year-old Margaretha Zelle married Dutch Colonial Army Captain Rudolph McLeod in 1891 in Amsterdam, and the coupled then moved to Java in the Dutch East Indies. McLeod was a syphilitic, abusive alcoholic. Zelle fled the domestic violence in her household and immersed herself in the local culture, particularly Javanese dancing. Joining a local performing troupe, she adopting the name "Mata Hari," meaning the Sun, or the "Eye of the Day." Moving to Paris in 1903, she became an overnight sensation as an exotic dancer, claiming she was a Javanese princess of priestly Hindu birth, who had been trained since childhood in the art of sacred Indian dance. Her large following brought many influential contacts, and in 1912 Zelle traded the stage for the life of a courtesan, consorting with military officers of high rank throughout Europe.
At the outbreak of WW I, Zelle, fluent in seven languages, capitalized on her neutral Dutch citizenship to cross international borders with impunity. French military intelligence recruited her as a spy, offering Zelle one million francs if she could seduce admirer Crown Prince Wilhelm, and provide France with valid information about German tactics.
Zelle was arrested in England in 1916 and interrogated. Eventually confessing to espionage, her credibility and integrity came under scrutiny due to her background as an exotic dancer and courtesan; a woman of such loose morals could not be presumed to be telling the truth. To this day it is unclear if her reports were fabricated. She may have thought her testimony made her sound more captivating, or the French authorities were possibly using her as a scapegoat but were embarrassed to acknowledge it. Later that year Zelle offered to share French secrets with the German army in exchange for money, but she only reported gossip. Exasperated and feeling exploited, the Chief Intelligence Offer of the German army exposed Zelle to the French as a German spy.
On October 15, 1917, Zelle was executed before a French firing squad.
Born on a Pluto station
Sex and sexual issues take center stage
Inheritances, legacies, and bankruptcies
Research and investigation
Lured toward the Underworld 
Issues of life, death, and crisis
Example of Pluto SD: Gertrude Stein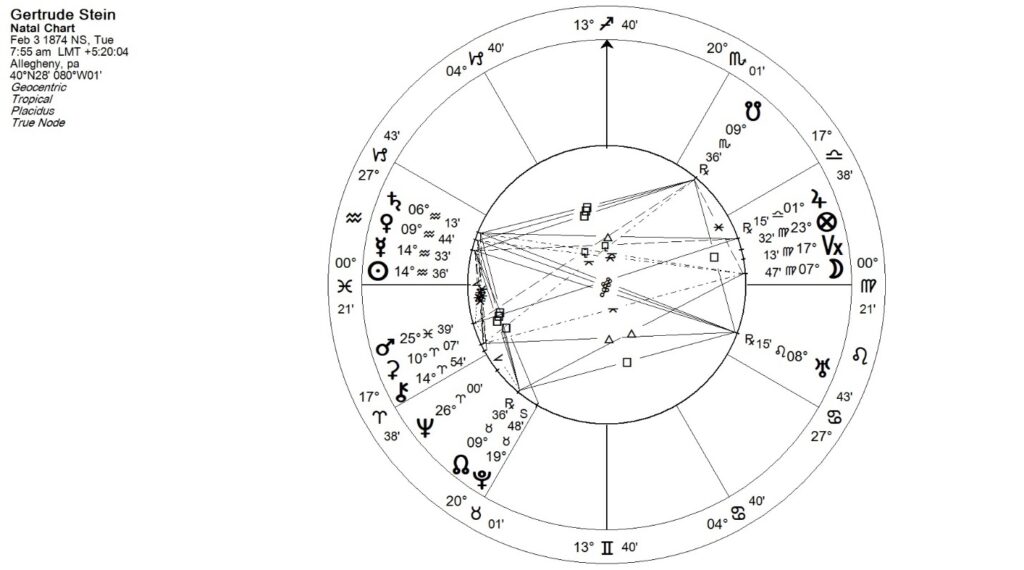 Gertrude Stein was born into an upper middle-class family. After spending 1877 in Paris with a housekeeping staff, governesses and tutors, the Steins moved to Oakland, California the following year, where Stein's father purchased the Market Street Cable Car company, establishing the family's financial security.  When Stein's father died when she was 17, her brother Michael took control over the cable car company. The business thrived. 
A brilliant student, Stein studied literature and psychology at Radcliffe and then pursued a degree in medicine at Johns Hopkins College, where she encountered two female medical students in a lesbian relationship. It was then she experienced her "erotic awakening." A love triangle followed, ending in crushing disappointment, which caused Stein to abandon her studies in 1902 and follow her brother Leo to London. The two siblings moved to 27 Rue de Fleurus in Paris, where Stein hosted her renowned salon, entertaining European and American artists, writers, and bohemians of every stripe. During this time Gertrude and Leo began an art collection, which was to become prominent for its cultural and historical importance.
Alice B. Toklas met Stein at a colleague's apartment. It was love at first sight. Noting that that the two women were more than friends, Leo moved out and Alice moved in, managing Stein's household, and helping her preside over the famous salon. Stein's education and Parisian lifestyle were financed from her inheritance from the cable car company.
At Stein's death in 1946, she left her distinguished art collection, including paintings of Picasso and Matisse, to her beloved Alice, who subsequently nursed her grief in Italy. During her absence, Leo removed all the art from their apartment and stored it under lock and key. Since Stein and Toklas' same-sex relationship wasn't legally recognized at the time, Toklas had no recourse. She spent her remaining 21 years in poverty, depending upon the kindness of friends and the modest income from the publication of two cookbooks.
The above examples highlight the overriding effect of planetary stations. Note them well when you analyze a chart, and discover the power of optical illusions and their impact on the course of events.
Using this technique, stage magicians keep their audiences in awe, and so can astrologers.
Copyright 2022 by Jackie Slevin. All rights reserved.