Drew Barrymore: The Rise, Fall and Rebirth of an Angel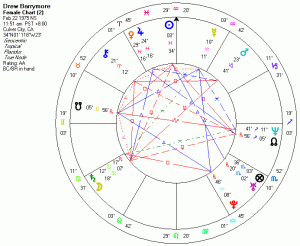 One of the leading ladies of blockbuster hit "Charlie's Angels," actress Drew Barrymore possess a wide streak of  "star quality." By the age of ten she had appeared in "E.T.", "Irreconcilable Differences" and Stephen King's "Firestarter." Hosting "Saturday Night Live" at age seven, this modern day Shirley Temple awed directors and movie-goers alike with her effortless ability in front of a camera.  Being well connected in Hollywood is a plus for anyone in show business, but Barrymore's connections are one of a kind, extending back to the nineteenth century.  In short, she was born to the breed.
Moon conjunct Saturn: The Ties That Bind
A conjunction is an aspect that occurs when two planets are within a few degrees of each other in the same sign, combining their energies for better or worse. The blend of Moon and Saturn indicates a strong family pattern that is indelibly imprinted on anyone born with it. Drew Barrymore is a fourth generation actor. Descended from a nineteenth century London stage actor Maurice Barrymore, her grandfather was the legendary John Barrymore, accounted as one of the finest English-speaking actors in addition to being a Hollywood matinee idol.  Great Aunt Ethel was a leading actress of the American stage along with Great Uncle Lionel, accredited as one of the finest actors on Broadway, who left his profession to study art in Paris only to return to the US and resume acting on the silver screen.  Thus Barrymore's gene pool was an ocean of talent, and she plied its waves with the skill of a mermaid.
Sun in Pisces: Dream Maker and Heart Breaker
Many Thespians are born under this sign.  Acting is to make pretend; drama involves the willing suspension of disbelief.  Whether an actor lives a life of masquerade or assumes a role with uncanny precision, they stretch their empathy to project a particular image upon the public at large.  Pisces is the Fish that swims submerged in an underwater world of incandescent lights, ethereal sounds and strong currents. When trouble lurks, as it often does in the perilous deep, fish either escape to safety or become caught in the nets and hooks of their predators. The same can be said of Pisces people, who must choose their own personal escape route when the going gets too tough.  Fish who catch the upstream current escape through the arts, literature and the helping professions.  Downstream swimmers escape through drugs, alcohol and delusion. Some Pisceans use both exits simultaneously, and Barrymore was no exception.
Venus conjunct Jupiter: Too Much of a Good Thing
When the Goddess of Beauty and the God of Good Fortune join hands, a party results on a grand scale. This gala event can bring a celebration of good cheer or a debacle of debauchery.  Strongly placed in Barrymore's horoscope, this aspect of abundance is a two edged sword that cuts both ways.  The ocean of artistic talent that runs deep in her ancestry holds very murky depths. Grandfather John died a penniless alcoholic. His son, Drew's father John Drew Barrymore, while not an actor of great renown, also drank to excess.  Young Drew's mother, Ildiko Jaid, and father separated before birth.  Fame in Drew's early childhood and its resultant celebrity status catapulted mother and daughter into life in the fast lane, and it was a lifestyle that was eagerly embraced by both.  Drew's world changed at age nine when she had her first taste of alcohol at actor Rob Lowe's birthday party and it marked the beginning of her downward spiral. After a suicide attempt at age ten, isolation became her constant companion. By age thirteen she was in rehab for alcohol and cocaine abuse.   The following year her autobiography "Little Girl Lost" was a tell-all litany of a childhood characterized by overwhelming bouts of loneliness, depression and delusion. Clean and sober at sixteen but no longer able to play childhood roles, directors wouldn't take Barrymore seriously until her blossoming sexuality came into view along with her notable streak of independence.
Sun trine Uranus – The Free Spirit
The trine aspect of 120 degrees between two planets imparts a beneficial blend of their energies. With the Sun representing one's identity and Uranus their originality, this aspect is one that enables someone to hear a different drummer while blazing their own trail.  Legally emancipated at age fifteen from her antagonistic manager/mother who had manipulated her career since her breakthrough in E.T., Barrymore's new found freedom emerged in full bloom. Casting her inhibitions to the wind, she appeared nude on the cover of "Interview" magazine and flashed her breasts in clubs and on "Late Night Letterman." After establishing her own company "Flower Films" in 1994, her appearance in the 1996 film "Scream" confirmed her career rebirth. Following critically acclaimed performances in "Everybody Says I Love You" and "The Wedding Singer," she served as Executive Producer in the film "Never Been Kissed."
Thus the child star that became a little girl lost was ultimately found and rose to be an Angel.  To whom much is given, much is expected.