Anne Frank: A Study In Horoscope Dynamics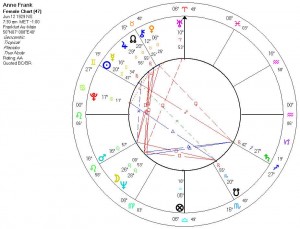 Originally published in Horoscope Guide Magazine.
Adolph Hitler's best known victim of Nazi persecution has become a universal hallmark of human triumph under adversity. The thirteen-year-old girl who went into hiding in the attic of an Amsterdam warehouse left behind a diary of her daily life which eventually became required reading for every adolescent student in all comers of the world. Often the first window on World War II and the Holocaust to the baby boomer generation and those to follow The Diary of Anne Frank, a poignant legacy of abject political oppression and victimization, strikes a primal chord of humanity in everyone who reads it. This Gemini girl had a tale to tell, and was clearly suited to doing it. A study of progressions, transits and solar arcs to Anne's horoscope gives a crystal clear picture of her short, sheltered and ultimately heroic life.
Annelise Marie Frank was born on June 12, 1929 in Frankfurt, Germany the second daughter of Otto and Edith Frank. (Source: Lois Rodden, Profiles of Women, Reference: Otto Frank). A brief glance at Anne's chart shows a Gemini Sun in the 11th house, Moon and Neptune conjunct in Leo in the 2nd house and Leo rising. The sign Gemini rules communication and writing and the Sun in the 11th house often indicates someone who acts as a leader or representative for a cause. This placement can also point to a person's tendency to be an idealist, for in the face of unspeakable oppression, this thirteen-year-old girl wrote "in spite of everything, l still believe that people are really good at heart."
The emphasis in Leo illustrates Anne's need to be the center of attention among her friends as well as her love of Hollywood films, as photographs of movie stars brightened the walls of her makeshift yet habitable hiding place. A flair for dramatic expression and an overall benevolence, combined with an investigative journalist's eye for detail, endeared this gifted and talented girl to the world at large. The Moon-Neptune conjunction gives heightened awareness and deep intuition. Anne read the minds of all her cohabitants in the Secret Annex and absorbed their moods and feelings like a sponge. Her Part of Fortune conjunct her I.C. illustrates her development in a serene and tranquil family environment in addition to her utter devotion to her beloved father, Otto, whom she nicknamed "Pim."
The Frank family had strong roots in Frankfurt's one-thousand-year-old Jewish community and Otto, affectionately known as "Papa" Frank, enjoyed a stellar reputation from his prior status as an officer during World War I. Kind, capable and socially astute, Otto took a dim view of tile disturbing political changes sweeping Germany, most notably the chancellor ship of the radical Adolph Hitler who took office due to a secret agreement on January 30, 1933, and began to rule as a dictator within two months. Sensing the imminent threats to the Jewish community, Otto took steps to relocate his family to a place safe from the encroaching anti-Semitism that began to manifest around them. By the summer of that same year, Otto moved his wife and daughters to their maternal grandmother's home in Aachen, West Germany, near the Belgian border. During this time period Anne's Progressed Midheaven was conjunct her natal Uranus, a classic indication of sudden change, and transiting Jupiter was sextiling her Ascendant, showing an opportunity to enhance and protect one-self. In the winter of 1933-34, transiting Jupiter conjoined Anne's Part of Fortune and her I.C. and trined her Mercury and Sun, her ruling planet. The move proved a successful stepping stone by all accounts. Otto, moving ahead with his plan, traveled westward and took up residence in Amsterdam, Holland, a country known for its neutral position during World War I. After establishing himself in a food services business, Otto summoned his wife and daughters to the new home he had established and the Frank family was reunited in the Spring of 1934. At this point, transiting Saturn opposed Anne's Moon, a sure sign of the solidification of domestic events, underscored with hardships of necessity.
Storm clouds of war began brewing when the Nazis invaded Amsterdam on May 10, 1940. Jews were forced by decree to wear the yellow star of identification and Anne and her sister Margot, due to their heritage, were forced to leave a Montessori school and attend the Jewish Lyceum. Otto was also forced to leave his business, yet he retained loyal friends in his employees and associates, who were to become invaluable later on. Despite these problems from the World outside her family, Anne proved to be a bright student and enjoyed a happy childhood that passed without incident.
A Diary Named "Kitty"
In her book, we meet her just after her thirteenth birthday when she received her beloved diary, which she named "Kitty" as a gift. Four days before her birthday on June 8, 1942, Neptune made a station in the 28th degree of Virgo, exactly squaring Anne's Saturn in the 28th degree of Sagittarius in her 6th house of daily  routine. This station marks the beginning of a serious dedication to observing and recording her own feelings, emphasizing the discipline that Anne used to document the events of her life. Saturn also rules one's career, and one could say that in the next two years that Anne was laying the foundation for a hoped-for career, for she frequently wrote in her diary that she wanted to be a famous writer.
Life in the Frank family knew it ended three weeks after her thirteenth birthday, on the afternoon of July 5th, when Anne's older sister Margot received a letter ordering her to report to a labor camp. Wasting no time, on the following morning, Otto moved his family to a warehouse attic ("The Secret Annex") that was concealed by a floor-to-ceiling bookcase. Anne's solar-arced Pluto was conjunct her Ascendant within 27 minutes of arc, representing an external event that triggered a crisis in her personal life. Along with this, her solar-arc Moon was exactly conjunct her 3rd house cusp, which rules siblings (Margot) and communication (the letter). It is also important to note that the radio, a 3rd house instrument of communication, became the focus of daily life in the Secret Annex and the enforced seclusion inclined Anne to incorporate writing, a 3rd house activity, into her daily life on a steady basis. On the day Margot received the letter there was a third-quarter Moon in the 12the degree of Aries conjunct Anne's Midheaven (her place in the world), as well as her Uranus, ruler of her 7th house of open enemies and her 8th house of crisis.
Anne, along with her sister, her parents and four other Jews, lived in the Secret Annex for two years. Kept alive with clandestine food deliveries from Otto's employees, the inhabitants prayed daily for an end to the war and took particular interest in the broadcasts of D-Day, thinking that freedom from Nazi occupation would come any day now. Through the ever-present fear of being discovered, the upbeat Anne always saw the light at the end of the tunnel. "I have often been downcast, but never in despair; I regard our hiding as a dangerous adventure, romantic and interesting al at the same time. In my diary I treat all the privations as amusing. I have made up my mind now to lead a different life from other girls and, later on, different from ordinary housewives. My start has been so very full of interest, and that is the sole reason why I have to laugh at the humorous side of the most dangerous situations."
To this day, no one knows who made the telephone call that informed the Nazis of the group of eight Jews hiding in the Secret Annex. They were raided and captured on August 4, 1944, the day of a solar eclipse in the 13th degree Aquarius. Incredibly enough, this eclipse was conjunct Anne's solar-arced Descendant, the point of open enemies, and her solar-arced Venus was exactly conjunct her North Node in the 11th house of personal identity within a group. A few days later, the Frank family was taken by train to Westerbork, a deportation camp for Jews and other prisoners. They departed for Auschwitz on September 3, 1944 and arrived there two days later. At this time, transiting Mars and Neptune were conjunct, an aspect that gives an atmosphere of high voltage energy surrounding treachery and confusion. This conjunction took place on Anne's Part of Fortune and on her I.C., or her parental axis. The Frank family was separated by gender on the platform at Auschwitz, and it was the last time Anne ever saw her beloved father. Otto passed selection by Joseph Mengele himself and was sent to the men's camp for work.
At Auschwitz
Anne arrived at Auschwitz suffering from scabies, so she could not be sent to the work camp;  her skin condition forced her to remain in the main camp near the crematories. Her mother Edith and her sister Margot, both still in good health, were offered the opportunity to be transferred to the work camp, yet chose to remain with Anne. Transiting Jupiter at this time was conjunct Anne's 3rd house cusp indicating protection from kin.  With the stunned expression of sleepwalkers,  the prisoners moved about in a state of consciousness that numbed and somehow protected them from the horror of their environment. "But Anne had no such protection, one survivor wrote "I can still see her standing at the door and looking down the camp street as a herd of naked Gypsy girls were driven by to the crematory and Anne watched them go and cried. And she cried also when we marched past the Hungarian children who already had been waiting half a day in the rain in front of the gas chambers because it was not yet their turn." The hypersensitivity of the Moon-Neptune conjunction inclined Anne to empathize with virtually everyone, despite her own debilitating hardship.
With her scabies under control, Anne, Margot and Mrs. van Pels, another inhabitant of the Secret Annex, (Anne used the pseudonymous last name Van Daan in the diary), were among a group of the youngest women to be transported to another camp at Bergen-Belsen in Germany, where the horrors were even worse. There was none of the meticulous organization of Auschwitz; no roll call, no food and no water. Anne arrived at Bergen-Belsen on October 30, 1944. The following day there was a Full Moon in the eighth degree of Taurus, conjunct Anne's Midheaven, the point that identified her place in the world and also the location of her Uranus, the planet of sudden, unsettling events. Transiting Neptune was still conjunct her natal Part of Fortune on the cusp of the 4th house (parents). Otto Frank was still alive, but Anne did not know this. Neptune also rules wasting away, and this is precisely what happened to her mother. Remaining behind at the hospital barracks at Auschwitz the already despondent Edith Frank slipped into what is now known as clinical depression. At Bergen-Belsen, the fortunes of the Frank sisters plummeted. A fierce Winter was beginning and Anne and Margot's bunks were placed next to the door of an unheated barracks. During a particularly ferocious storm one week later on November 7th, Anne and Margot met with friends they knew from the Dutch Resistance who were also interred in the camp. One of these individuals, who survived the Holocaust, described Anne at this point as emaciated, overwrought and shivering in a horse blanket. Their misfortune continued. Back at Auschwitz, Edith Frank died on January 6, 1945. Transiting Neptune made a station and turned retrograde in the sixth degree of Libra, exactly conjunct Anne's I.C., that very same day.
Typhoid Winter
In late February, the friend from the Resistance again visited Anne and Margot, who by now were both stricken with typhoid fever. The mortally ill Margot was moved to another barracks and soon died and Anne, while never informed of her sister's death, sensed it. A few days later, a starving Anne glimpsed a schoolmate through the fence and poured her heart out, claiming she had no one, that her parents and sister were all dead and she had nothing. Anne was never to learn the fate of either of her parents.
When the friend from the Dutch Resistance returned seven days later Anne was also dead from typhus, which had reached epidemic proportions, killing 18,168 people in March 1945. While her death was recorded in the camp as occurring on March 31, "There are, however, some in indications that they both died a few weeks earlier, possibly at the end of February or early March." One can surmise the date by the placement from her progressed Sun, which in March 1945 was in the fifth degree of Cancer. Transiting Saturn made a station in the third degree of Cancer Sun on March 3, which is most likely the day that marked her final demise.…"she died, peacefully, feeling that nothing bad was happening to her." She was three months short of her sixteenth birthday. When British soldiers liberated Bergen-Belsen on April 15, 1945, they emptied the contents of a small hut that stood a few hundred feet from the barracks where Anne and Margot lived. It contained medicines for typhoid fever.
Anne Frank possessed a passion for life that saw her through the darkest of human experiences. For being a member of the Jewish religion she was exiled, humiliated, cloistered, captured, imprisoned, starved and finally annihilated. But she was never defeated. Four months before she was captured, she wrote in her diary: "I want to go on living even after my death! And therefore I am grateful to God for giving me this gift, the possibility of developing myself and of writing, of expressing all that is in me."
We, in turn, are grateful to God for the gift of Anne Frank, whose young life, while so cruelly ended, continues to be an inspiration to us all.
Leave a Reply